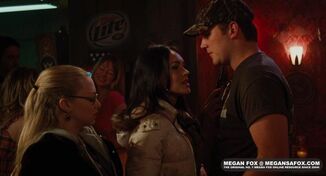 This was the latest fling between Roman Duda and Jennifer Check in Jennifer's Body.
Jennifer takes Needy to a local dive bar to attend a concert by indie rock band Low Shoulder. When the two arrive there, Jennifer confessed to Needy that she's no longer a "back-door virgin", thanks to her fling with officer Roman Duda, and the result of their fling left her suffering in pain from sexual intercourse and having to stay home to sit on a bag of frozen vegatables.
Roman Duda confronts Jennifer and Needy about their being at the bar and whether or not they have licenses. Jennifer admits that he's was less crabby when they both were dating, to which Roman tells to keep quiet about their latest fling because he's a rookie cadet on the police force. Jennifer promises him, but not before embracing his body first, as Needy witnesses.
A suspicious fire engulfs the bar, killing several, and Jennifer who is in shock, agrees to leave with the band despite Needy's attempts to stop her.
Image Gallery
Edit
Community content is available under
CC-BY-SA
unless otherwise noted.