Nikolai,played by
Adam Brody
, is the lead singer of the indie-rock boy band,
Low Shoulder and
is the true main antagonist of the film,
Jennifer's Body
.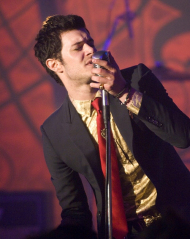 Jennifer's Body
Edit
Nikolai and his band, Low Shoulder, first appear at Melody Lane, giving their performance of "Though The Trees",
That same night, Jennifer takes Needy to a local dive bar to attend a concert by indie rock band Low Shoulder. A suspicious fire engulfs the bar, killing several, and Jennifer agrees to leave with the band despite Needy's attempts to stop her.
Meanwhile, the members of Low Shoulder gain popularity due to their rumored heroism during the fire and offer to make a charity appearance at the school's spring formal.
Low Shoulder took her into the woods and offered her as a virgin sacrifice to Satan in exchange for fame and fortune. However, although the sacrifice and greedy exchange were a success, Jennifer was not a virgin, and when the lead singer Nikolai (Adam Brody) murdered her, a demonic spirit took over her body.
Set upon revenge for what was done to Jennifer and her, she escapes the mental facility and hitchhikes a ride to the hotel where Low Shoulder are staying; there, she slaughters four of the members. Then the final one standing is Nikolai. Needy stabs Nikolai through the heart with the knife, killing him.
See:Nikolai's Quotes
Image Galley
Edit
Community content is available under
CC-BY-SA
unless otherwise noted.