Mrs.Check is the mother of
Jennifer Check
and is a minor character in
Jennifer's Body
. She is portrayed by actress
Carrie Genzel
.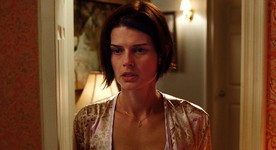 Jennifer's BodyEdit
Needy goes to Jennifer's home, crashes through the window and fights her with a boxcutter. Culminating with a stab to the heart, Needy finally destroys the demon and kills Jennifer. Jennifer's mother comes in and finds Needy with the utility knife on top of her daughter's body. Soon after, Needy is brought to an asylum.
Mrs. Check is one of few characters that are mothers in Jennifer's Body.
Mrs. Check was unaware that her daughter was a Succubus.
Community content is available under
CC-BY-SA
unless otherwise noted.