Chastity, portrayed by
Valerie Tian
, is a minor character in Jennifer's Body.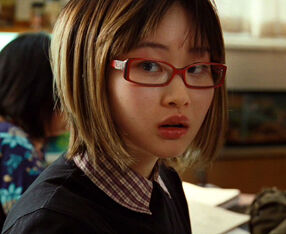 Jennifer's Body
Edit
Chastity is smart, nerdy, opinionated, and often rude to others, especially Needy. She's first seen at the beginning of the film, having attended one of the high school pep rallys with several other high schoolers. Catching Needy and Jennifer waving hello to each other with smiles, Chastity accuses Needy of being "totally lesbi-gay", though Needy denied the subject, saying that Jennifer's "just a friend", Chastity mocks Needy by waving and giggling, much to Needy's annoyance.
Appearance
Edit
Chastity is of Asian origin. She has thin, scarce eyebrows that are delicately trimmed, along with a pixie/bob cut hair style with atrifical highlights and low lights. Her nose bridge is small, slowly extending out at the nostrils. Her eyelashes are very thin, appearing as if she didn't even have any and her lips are heart-shaped and plump in size.
She's one of few characters who appear to not have a love interest.
She's a fanatic of Low Shoulder and despises anyone who says they're fake, which actually, they are.
Image Gallery
Edit
Community content is available under
CC-BY-SA
unless otherwise noted.